Birthday Parties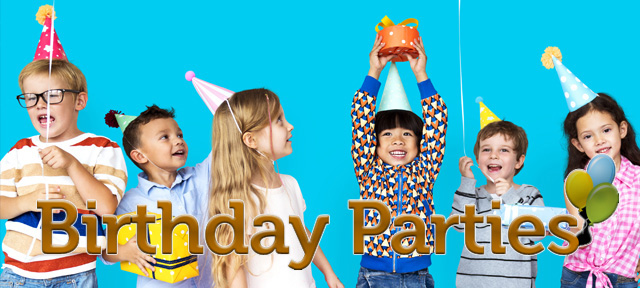 Celebrate your Birthday at Laser Blasters!
Reserve your party online!

When you host your party at Laser Blasters, we will provide a party that your kids wont forget!

Included in our package:
Either Two fun games of laser tag for up to 16 party attendees or One Game of Laser Tag and One Game of Mini Golf for up to 16 party attendees.
A dedicated party host
Private Party Room
Two Large Cheese or Pepperoni Pizzas
Two Liters of Soda
Use of our game room with foos ball and other fun games!
A $100 dollar deposit is required to book a party. Cancellations must be made 14 days prior to your party date. After 14 days the deposit becomes non-refundable.

Additional pizzas may be purchased for $18.00 + tax. Orders must be placed 48 hours prior to your party date.

You may provide your own birthay cake. No other outside food is allowed.

Our party room is limited in size. Up to 16 kids are included in the party package. An additonal 6 adults may attend. Wrist bands will be issued for up to 22 people for admission. Unfortunately others will be unable to attend. Both room size and fire marshall restrictions are the reasoning for the limit. Our party area includes our game room, and party room. Those attending the party will be checked in by our front door and only the 22 people receiving wrist bands will be allowed in our game room and party room. If parents wish to remain at the mall to wait until the end of the party time, we suggest they visit one of the restraunts close by or in the mall.

Please note these laser tag rules: Players 7 years of age and older can play on their own. Players 5 and 6 years old, can play when accompanied by a playing adult. You will be assigned 16 laser tag slots for each laser tag game during your party. If you have players that are 5 or 6, they MUST have a playing adult accompany them while playing laser tag. One adult for each child that is 5 or 6. Each of these adults will take up one of your 16 laser tag slots. Please consider this when considering how many kids you will be inviting to the party!

Those that are not playing are not able to enter the arena due to liability insurance reasons. We do provide a live video feed of our laser tag play area.



You are welcome to bring balloons, table decorations, table cloths, plates, cups and napkins if you prefer a theme. We provide a generic table cloth, plates, napkins and cups. Decorations can not be set up before your party time as we have a very limited time in between scheduled parties.